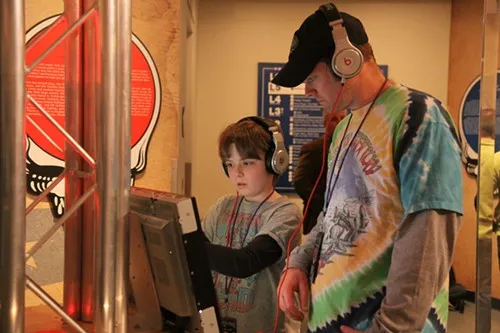 Rock and Roll Hall of Fame and Museum
The Rock and Roll Hall of Fame and Museum has announced plans to launch a new weekly Gallery Talk in the Museum every Tuesday at 1 p.m. The series begins this afternoon as docent Frank Smith will talk about key items in the Grateful Dead exhibit currently on display on the fifth floor (which is where you'll go to hear the lecture). If you miss today's talk, it will repeat at 1 p.m. on March 5. The Rock Hall has hosted informal talks in the past and the staff is so well-educated and well-informed about the exhibits that the sessions have proven to be highly informative. Attending the talk is free with museum admission. Here's the rest of the schedule (which is taken directly from a Rock Hall press release):
Tuesdays: February 12, March 12, April 2, April 23

Exhibit: The Beatles and the Rolling Stones

The Beatles' and the Rolling Stones' impact on rock and roll, and on popular culture in general, cannot be overstated. The Beatles revived rock and roll, which many people thought was dead, and greatly expanded its musical and lyrical boundaries. The Rolling Stones have earned the distinction of being the greatest touring band of all time. Their energy, spectacle and, most importantly, their music, has set the standard for all others to follow. Beginning in the Beatles and Rolling Stone exhibit areas, this Gallery Talk features the stories of two of the biggest bands in rock and roll history.


Tuesdays: February 19, March 19, April 9, April 30

Exhibit: Jimi Hendrix and Psychedelic San Francisco

This Gallery Talk begins in the Cities and Sounds: San Francisco — Somebody to Love (1965 — 1969) exhibit. San Francisco served as a magnet for musicians, artists and social rebels in the mid-to-late Sixties. The city's innovative and popular musical groups —Grateful Dead, Jefferson Airplane, Quicksilver Messenger Service, Big Brother and the Holding Company, Santana — changed the way music was performed and experienced. The talk then moves to the life and music of Jimi Hendrix, arguably the greatest instrumentalist in the history of rock music who expanded the range and vocabulary of the electric guitar into areas no musician had ever ventured before.


Tuesdays: February 26, March 26, April 16

Elvis, Memphis and the 1950s

This Gallery Talk begins in the ELVIS exhibit, highlighting different chapters in his career. The story then moves to the Cities and Sounds: Memphis — Whole Lotta Shakin' Goin' On (1948 — 1959), where the story of Sun Records and the city of Memphis shaped the development of early rock music with artists such as Elvis, Carl Perkins, Roy Orbison, Johnny Cash and Jerry Lee Lewis. This tour concludes in the Rave On: Rock and Roll's Early Years exhibit, featuring the pioneering artists of the 1950s, who provided the template for rock and roll — its driving beat, fashion consciousness, minimalist instrumentation and independent spirit.