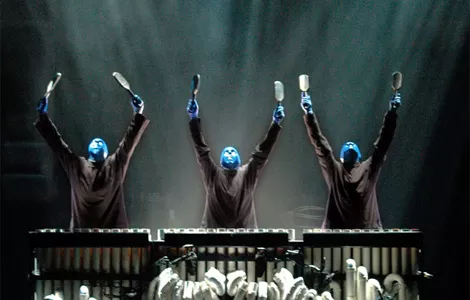 PHS
Blue Man Group runs through Sunday at the Palace Theatre.
The blue man grabbed my hand and began coughing up bits of half-chewed Toblerone chocolate into my open palm. He looked at me with a detached gaze before leading me in a bow before the entire audience. It was, in some far-out sense, art.
Listen: Blue Man Group is in town through Sunday and it's one of those shows that's been attracting that "must-see" qualifier for years now. And the fun hasn't slowed down one bit.
There are many strands of thought - and plenty of entertainment - that run through a Blue Man Group show. Audience members are greeted with a long aphorism on a screen that dictates helpful etiquette when meeting with members from another culture. The Blue Men, being the humanoid something-or-others they are, have gifts to bestow. All along, they're trying to cultivate a meaningful relationship with the people they're meeting. In turn, they're routinely flabbergasted by our own world.
And, alongside the laughs that never stop coming, that's the central hook to the show. The performers, silent and mystifying, explore biological and technological themes like modern plumbing, digital communications and the science behind sight. Recent incarnations get into the social world of smartphones, warning attendees of the vapid brain drain that lies just beyond the text message screen. It's participatory, it's bizarre, it's fascinating.
So when the Blue Man politely requested a piece of Toblerone chocolate from a woman in the audience, broke it up and passed me three remnants, it seemed the most natural thing to start tossing the candy 20 feet across the aisle into his mouth. He caught each piece and promptly returned the favor.