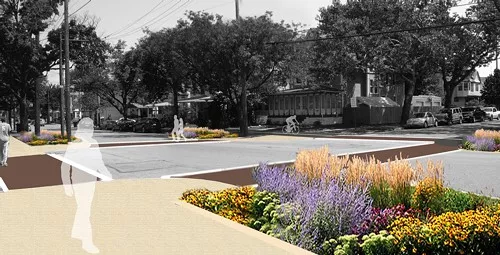 Image: Environmental Design Group
Substantive improvements are on the horizon for Cleveland's formerly neglected W. 65th corridor, currently Cleveland's foremost destination for scrap metal scavenging and GTA-style motorist mayhem. Scenic family strolls and swoony late-night bike rides? Not so much. But cycling advocates, city planners, and community members are making big strides toward revolutionizing the way Cleveland streets are configured, starting with one of the least pedestrian- and biker-friendly strips on the west side.
The project, co-sponsored by the Detroit Shoreway Community Development Organization and the Stockyard, Clark-Fulton, and Brooklyn Centre Development Office (both of which form terrible acronyms), was awarded a federal grant through NOACA's Transportation for Livable Communities Initiative (TLCI) in 2011 to conduct a transportation improvement study of the W. 65th corridor. The study, now in its final stages, couples nuts-and-bolts traffic analysis with community-centered streetscape proposals.
Last Tuesday, the project's sponsors held their third and final public planning meeting. Michelle Johnson, a consultant from Akron-based civil engineering firm Environmental Design Group, presented a final draft of the study, many of whose slated improvements were community-generated.
"It's a public process," explains Sasha Ottoson-Deal, a development specialist at the Stockyard, Clark-Fulton & Brooklyn Centre Development Office. At the first two meetings, planners fielded concepts and suggestions from community members; now, they're ensuring that they've created a viable synthesis of that input in the final planning stages. "The purpose [of the third planning meeting] was to make sure that we've done our job through the public process to create something that people support and want to see in their neighborhood," says Ottoson-Deal.
Jacob VanSickle, executive director of nonprofit cycling advocacy outfit Bike Cleveland, agrees that community insight has played a vital role in the collaborative planning process: "I've been to a lot of public meetings, and all three W. 65th TLCI meetings were probably the most well-attended I've been to. I would say it's been a pretty great process."
Bike and pedestrian accessibility are two of the initiative's central concerns: TLCI planners worked closely with an on-street cyclist focus group to draft roadway concepts that encourage greener modes of transport. If implemented, some of the cyclist-savvy infrastructure outlined in the plan would be the first of its kind in Cleveland.
The plan proposes a major overhaul of what VanSickle terms "the zigzagging raceway" currently regnant along the W. 65th corridor and many other Cleveland streets; he's referring to the ambiguous lane plotting and resultant motorway charades all too familiar to Cleveland drivers. Major thoroughfares (like W. 65th and Detroit) are treated by motorists as four-lane roads, but the additional parking lane, intermittent road narrowing, and lack of road striping introduce a host of hazards for motorists and cyclists alike; drivers pass each other and brake erratically in the parking lane or careen alongside other cars with minimal leeway. "People don't want that," argues VanSickle. "The sad part is, we have that all over the city. It's crazy."
The new proposal calls for a promising reversal, however; as the plan's final draft pronounces, "status quo is not desirable." Instead, planners are bucking the status quo with a road configuration rarely seen in Cleveland: Ottoson-Deal, VanSickle and others are pushing for a narrower roadway with one lane in either direction, flanked on one side by a large tree lawn and sidewalk, on the other by a smaller tree lawn and ten-foot multipurpose pathway.
Some sections of the street will still have a parking lane (a provision contested by VanSickle and others who believe the plan should strive for less concrete and more greenery), but the extra lane will be girded by bump-outs, or landscaped curb extensions, to calm traffic, decrease pedestrian crossing distance, discourage reckless turns, and protect parked cars from traffic.
The cyclist focus group also yielded a plan for colored rectangular "bike boxes" at Lorain and Detroit. Bike boxes are protective intersection treatments for cyclists that increase visibility and decrease bike-car collisions. While bike boxes are prevalent in Portland and other cities with more sophisticated cyclist accommodations, VanSickle says Ohio in general has been slow to adopt the safety instrument: "We don't have any in Cleveland right now. There's one in Columbus. In Portland, riding a bike's very intuitive. In Cleveland, it can be very confusing." VanSickle says bike boxes at the two intersections "would be a dream come true."
Bike advocates also motioned to install preferential timing signals for cyclists on the multipurpose trail and "sharrows" (a portmanteau of "share" and "arrow") painted on the road to indicate to motorists that the road is also a preferred route for cyclists, hopefully discouraging the quotidian "Get off the road!" jeers that Cleveland cyclists have learned to weather with grim resolve.
Though VanSickle and other avid cyclists are the principal proponents of these pro-bike revisions, VanSickle says his primary objective is "meant to get more people on bikes." He explains that the corridor makeover promotes an "eight to eighty" accessibility concept, "where an 8-year old who's biking to school would feel comfortable on this bike path, as would an 80-year-old biking to the library."
While "transportation improvement" is the professed imperative here, the plan also tenders progressive measures for community revitalization and redevelopment. Public planning meetings have emphasized the importance of enhancing not just transportation utility, but also more abstract priorities like "neighborhood character" and "community identity," whence arrangements for community-enriching sub-projects like "pocket parks," urban gardens, public art, solar-powered bus shelters, accent lighting, and benches.
The project's organizers will present their proposal to the Cleveland City Planning Commission in June. After their draft is approved, they will work with Ward 15 Councilman Matt Zone to solicit city and federal funds to realize the project. At an estimated $5 million, the transformation won't come cheaply, but Ottoson-Deal and VanSickle are optimistic that there's more federal grant money where the first allocation came from. Both praised Zone's commitment to pro-bike initiatives in general and the W. 65th development project specifically.
"He's very supportive of bike infrastructure," confirms Ottoson-Deal. "It's not something we've seen a lot of, so it's going to be pretty neat when it gets built."