First it was like this.

Byron Scott had vision and experience and energy. Without Lebron, he knew it'd be a tough row to hoe in Cleveland, but he kept his chin up.

But the first season was really, really rough.

Byron Scott's face became a helmet of sorts, a triune mold. Each expression was a variation on one of three related themes: 1) dismay 2) confusion 3) extreme dismay.

There was a light at the end of the tunnel though: lottery picks. Very soon, Scott became a father figure to this guy.

And also this guy.

But still we played like this.

Byron was not pleased.

He ran out of excuses for the press.

Another season rolled around and everyone got injured. Byron was like: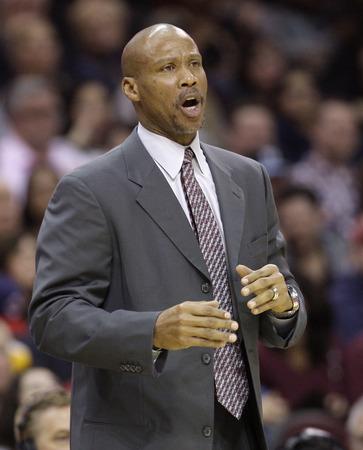 And then he was like:

He was just basically super frustrated all the time.

He couldn't bear to watch.

Even this guy couldn't believe it.

So Scott phoned it in. His heart wasn't in it. For as much as loved his players and the game of basketball, circumstances conspired against him and he ran out of solutions. He looked into his soul and discovered he didn't give a damn. He gave up. Now, he can only look forward.