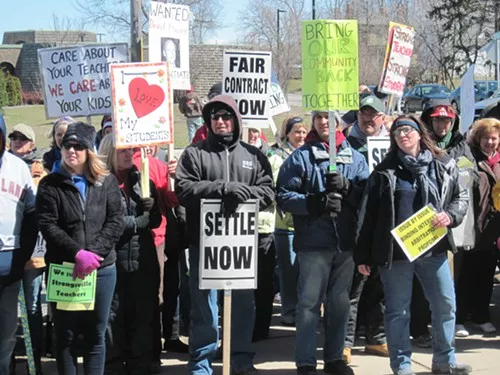 ERIC SANDY/SCENE
Strongsville teachers gather outside the school board offices. The board will hold its first public meeting in nearly two months tonight.
The Strongsville school board will meet tonight after nearly eight weeks of the public teachers' strike has torn the community asunder. It's the first public meeting since before the strike began, as the board has canceled three meetings during that time.
To accommodate the masses, the meeting will be held in the Strongsville High School auditorium, rather than in the media center. The meeting will begin at 7 p.m.
Here's the Strongsville Education Association's input on the matter:
SEA wants to make it clear that they will in no way disrupt the meeting with demonstrations. The only SEA members that will attend the meeting are those with children who attend Strongsville City Schools, who will respectfully attend the meeting just as any other community member is encouraged to do. Members of SEA with no children in the schools will peacefully assemble outside on Lunn Road, far away from the meeting.
Given the nature of the strike thus far, one can take "peacefully" with a boulder of salt.
The agenda includes a great deal of public recognition of the district's athletic teams and academic leaders. All of that will be rightfully deserved, as the teachers' strike has seemed to expunge from existence things like "student achievement" and "classroom integrity" and, you know, "educational standards" from the local discourse. There's been plenty of "It's all for the students!" talk, but look at Cory Shaffer's Sun News report of student representatives taking city stakeholders to task for the hysteria everyone has allowed for two months.
The rest of the meeting will involve standard administrative reports, the ratification of the agreement with Huffmaster Security Services and Alternative Workforce Inc., the suspension of quarterly grades for high school students and a look at the financials.