ERIC SANDY/SCENE
Marc Roberge of O.A.R. starts the show.
O.A.R. did what they do best last night, offering up a rousing set of summery songs -
the hits, the deep cuts
- and getting everyone at Nautica dancing.
The setlist was fairly varied, though the band seemed to toss some of its bigger hits into the ether early on. "Love and Memories," "One Shot," and "Shattered (Turn the Car Around)" all popped up within the first frame of the night. Throughout the set, the band dropped more than the usual amount of nods to 2005's Stories of a Stranger. As the evening went on, the band moved toward some of the more recent albums, including several tunes from their upcoming eighth album.
"Peace," a tidy little acoustic number opened the encore, drew on many of the inspirations that have always driven the band. Few details are available about the new album, but this song is sure to maintain a slot on many a summer mixtape.
Beyond the injection of new material, the show rarely deviated from typical O.A.R. fare. If you're a fan, you're a fan. And if you're out of the loop, last night's show wasn't likely to sway you. Really, it seemed like many in the crowd were simply waiting for the cathartic release of "(That Was a Crazy Game of) Poker," which showed up late in the night during the encore. It's a ridiculously fun tune, but a sort of mass exodus began with its final note.
The evening ended with a powerful and brief take on Wings' "Live and Let Die." Opening acts Allen Stone and Andrew McMahon joined O.A.R. onstage for the final tune of the night, which was treated more as exit music for many of the departing fans.
All in all: Good show. The set was a terrific cap to the long holiday weekend, and, regardless of mood, O.A.R.'s music blends perfectly with the balmy midsummer weather here in Cleveland.
Setlist:
Something Coming Over
Love and Memories
One Shot
The Architect
Gotta Be Wrong Sometimes
Delicate Few
The Stranger
Dareh Meyod
Wonderful Day
Shattered (Turn the Car Around)
Program Director
The Wanderer
Dangerous Connection
Hey Girl
Anyway
Mr. Moon
City on Down
What Is Mine
This Town
52-50
Missing Pieces
Encore:
Peace
That Was a Crazy Game of Poker
Live and Let Die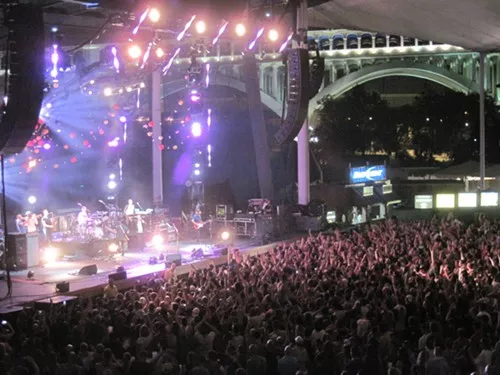 ERIC SANDY/SCENE
O.A.R. at Nautica