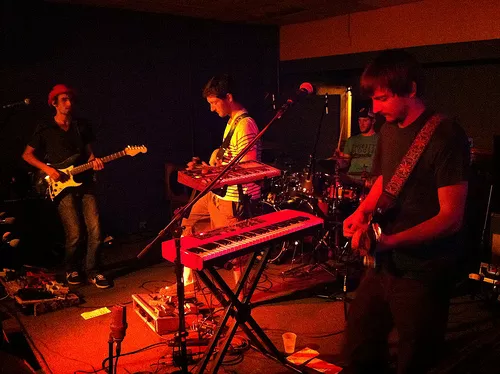 ERIC SANDY/SCENE
Aqueous at Beachland Tavern
Among the region's (country's?) absolute forerunners in terms of four-part improvisational jams, Aqueous is one of those *must-see* bands on tour these days.
Hailing from Buffalo, the band has managed to roll into Cleveland a handful of times this year (I'm counting four, with a Dec. 23 gig last year to boot). Last night's show topped them all, giving the small but dedicated crowd one of the most stellar nights of music this city has seen all year.
Early highlights arrived in "What's the Connection?" and "Origami," each of which got the far-out treatment. Breaking from the songs' main structures, what Aqueous does best blossoms in the free-form soundscapes they carve out for themselves. Sharp senses of harmony string together sections of brilliant improv. Simultaneously tight and loose, there's a very clear element of communication onstage. Guitarist Mike Gantzer often tosses signals to other guys, prompting the band to spin around on a dime and land in another key, another tempo.
The band even managed to slip in The Offspring's "The Kids Aren't Alright," which they had debuted last weekend in Erie, Pa.
Late in the show, an elderly gentleman worked his way up to the front of the crowd. Seemingly, he had just gotten out of The English Beat's show in the Ballroom and wanted to check out what in the hell was happening next door. He stood at the very front, arms crossed tightly, and looked on in astonishment. Occasionally, he would shake his head in wonder at the musicians; other times, he would laugh to himself as, for instance, Gantzer wove a tension-and-release jam to its peak.
His presence was the sort of thing that may otherwise have gone unnoticed amidst a night of unbelievable music. But his curiosity, drawn ever onward by the pulsating rhythms onstage, is indicative of what Aqueous is up to right now.
Fall tour was announced today, though there are no Cleveland dates. (Not to worry, perhaps; last night's Beachland date wasn't originally included in the summer tour announcement.) Dover, Ohio, on Sept. 14 and Columbus on Nov. 22 will have to suffice for now.
6 slides
If I can find a Cleveland source with good audio, I'll toss that up here. Until then, here's the band's show from Erie last weekend. (Check out "Marty")