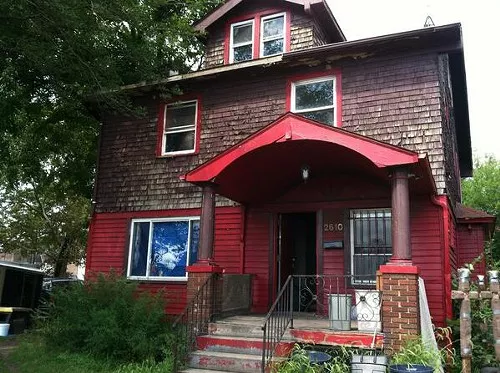 ERIC SANDY/SCENE
2610 Vega Ave.
Cleveland police and FBI officers converged at 2610 Vega Ave. Friday afternoon, following up on a lead in the case of Christina Adkins. Missing since January 1995, Adkins' case remains one of the oldest active missing person cases in Northeast Ohio.
Cadaver dogs are on site, prowling the property and sniffing out every inch of the home, inside and out. Vickie Anderson, speaking on behalf of the FBI, could not comment in detail on the search. She added that the lead is "credible" and that it has no immediate connection to the Ariel Castro case, which unfolded mere blocks away.
***
On a warm Thursday night recently, the Adkins family posted fliers along Prame and Kinkel avenues - the area where Christina was last seen. Before they went out that night, they told Scene that the fliers would surely be torn down by the morning. Later that night, three people hit the street and ripped the fliers from telephone poles.
This is what happens every time the family plasters the neighborhood with signs of Christina.
This is the tone of the family's efforts since Christina walked out of her parents' Prame Avenue home on Jan. 10, 1995.
That evening so long ago, emblazoned in the memories of her sister and mother, started with the side door swinging shut as Christina walked into the twilit backyard. She walked north to a friend's house just beyond the property line of her parents' place. It was about 7 p.m.
And that's it.
That's the story of the last known whereabouts of Christina, who was 17 years old and five months pregnant at the time. That's the route - a frighteningly succinct pathway from her parents' kitchen - that her mother, Mary, her sister, Tonia, have walked since the disappearance of Christina. When her father, Roger, was still alive, he fought fiercely for any and all information. But police didn't act. Christina's friends were not interviewed about the young woman.
But people have very slowly begun to talk, the family says. And a set of leads has galvanized an investigation first demanded in early 1995. Scene is awaiting details on the information that brought police to Vega Avenue this afternoon.
As one friend of the family recently described it, the pieces of the puzzle have likely been in plain sight all this time, strewn about the neighborhoods jutting off of West 25th Street. All that's needed is an enterprising police force willing to put them together.