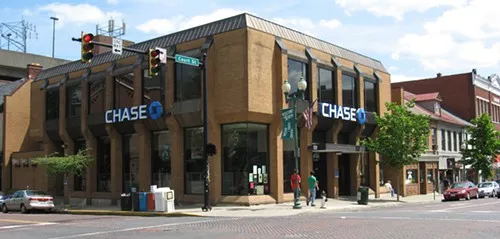 WIKIMEDIA COMMONS
The alleged sexual assault took place outside of this bank on Court Street last weekend.
Athens County prosecutors announced on Monday that no charges will be filed in the Ohio University street sex case because neither the accused nor the victim can actually remember what happened that night.
Since neither party can accurately confirm or deny the evening's events, an Athens grand jury could not find probable cause for the crime, the Columbus Dispatch reports.
Athens County Prosecutor Keller Blackburn said that while the public sex was "not appropriate," the grand jury found that it was not rape.
The Dispatch has posted a full account of the night's events, as told by Blackburn. (A.M.)
***
This controversial story has garnered another unsettling notch in its belt.
The Athens Messenger reports that soon after the photos went viral online, another female student was incorrectly identified as the woman in the video via rampant social media posts. The newspaper reports that this woman has had to shut down her own social media accounts and file a harassment complaint.
The original sexual assault report is still being investigated.
***
Originally posted Oct. 16
Pretty disturbing news outta Athens, Ohio, this morning: After a female student filed a rape complaint Sunday, photos and at least one video surfaced of the alleged sexual assault taking place on Court Street.
Here's the gist, courtesy of the student-run newspaper The Post:
She claims the man involved was a stranger, according to the report, which states the incident occurred on South Court Street between 1 a.m. and 6 a.m. Saturday.

The narrative stated the student, 20, reported to police that she had nonconsensual sexual conduct with a male. Alcohol is believed to have been involved.
This morning, digital rags like Gawker and BuzzFeed began sharing the social media posts from the incident.
Interestingly, OU students gathered Friday afternoon for the F@#K RAPE CULTURE rally uptown. The goal of the event was to push the university to reform its handling of rape complaints and sexual harassment charges.