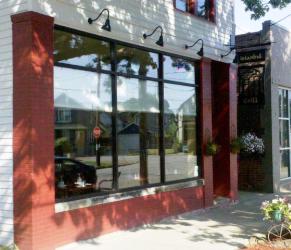 The surprise closure of Tremont's Istanbul Grill last month has a happy ending — or at least present. Last week the restaurant reopened as Dervish Grill (2505 Professor Ave., 216-298-4450, dervishgrill.com). If the name sounds familiar that's because a restaurant of the same name has operated for four years in Avon. In keeping with his promise to find a Turkish operator to resurrect the restaurant, former Istanbul Grill co-owner Drew Sasmaz sold the business to Dervish owners Ashley and Mehmet Candan and Levent Askoy. Former chef/partner Sonmez Bozkurt left to pursue other food ventures.
"There are only about four really great Turkish chefs in all of Northeast Ohio," Sasmaz said of the transaction.
Open since Thursday, Dervish looks and feels much the same as its predecessor save for a few minor aesthetic changes. The hours are the same except for Mondays, when the doors will open instead of stay shut. As for the food, the new owners will import their successful menu from Avon, while adding some specific requests.
"In just a couple of days of talking with our customers we realized we need to add more vegetarian and seafood dishes to the menu," says Ashley Candan. The trio has brought in chef Huseyin Savaskan to head the kitchen, while the husband and wife duo handle the front of house and overall operations of both establishments.
The new tenants seem genuinely excited to join the Tremont dining scene. "We have always loved the eclectic collection of great restaurants in the Tremont neighborhood and we are excited to be involved," adds Candan. "Everyone has been very nice in welcoming us to Tremont."