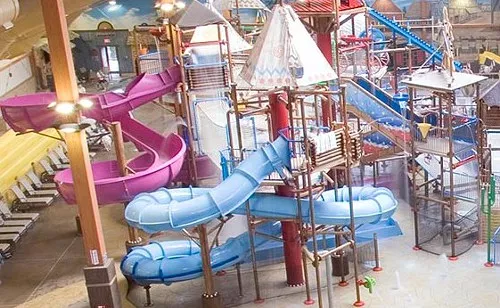 Photo Courtesy of Fort Rapids Water Park
Columbus, Ohio's Capital University is making a splash in local news today after announcing that some of their students will temporarily reside in suites at Fort Rapids, the largest indoor water park in Central Ohio.
That's right- water park.
Due to high enrollment rates and an increasing demand to live on campus, nearly 30 students will be calling the resort home this semester, a university spokeswoman told 10 TV.
For the extra, er, hassle, of living off campus, students will be provided with free shuttles to and from class.
Students are also granted free access to the water park which includes the likes of 40-foot water slides, water basketball hoops, and a 30-person hot tub.
But Capital officials said that students shouldn't get too cozy. Typically around 50 dormitory beds become available in the first two to three weeks after classes commence and students will be expected to move back on campus.
Still, not a bad start to the academic year.