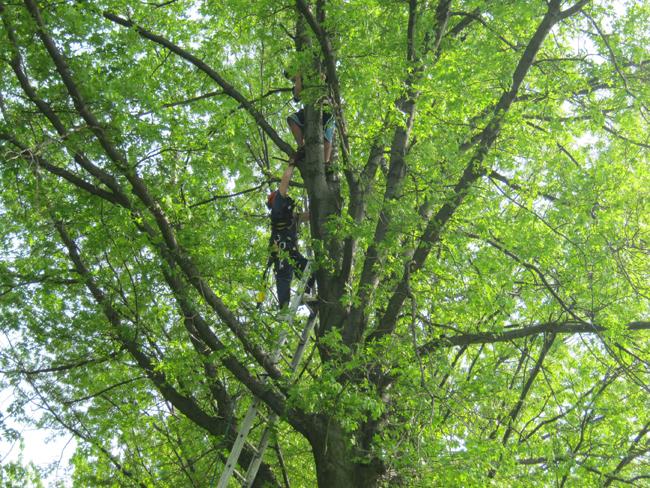 Eastlake fire and police have probably had their fair share of calls over the years summoning their services to retrieve cats stuck in trees. This is probably the first time they were beckoned to rescue a boy stuck in a tree, though.

The News Herald has the bizarre story that starts with an ambitious 14-year-old doing his best Spiderman impression, nothing out of the ordinary for a young teen. Scaling trees is a treasured pastime, and the natural inclination to dominate nature, or show off, leads young men to climb higher, and higher, and higher.
The problem, of course, is that sometimes it's easier to go up than down, and sometimes you reach a point when you finally turn your eyes from the sky back toward the ground and realize holy hell, you're pretty high up.
This 14-year-old managed to get 40 feet up into the tree, which unfortunately was higher than the fire department's ladder could reach. And the ground was too soft to support a truck with a higher ladder. So...


The department had to perform a high angle rescue, which involved a rope and harness system.

Firefighter paramedic Ron Gardner climbed a ground ladder and then the remaining distance to reach the boy, and then attached himself to the child.The two were then lowered down safely at about 5:20 p.m.

The child was examined on scene and did not suffer any injuries, Lloyd said.
And now this poor boy will be known to all his friends and classmates as the kid that had to be rescued from a tree by the fire department. That can't be good.