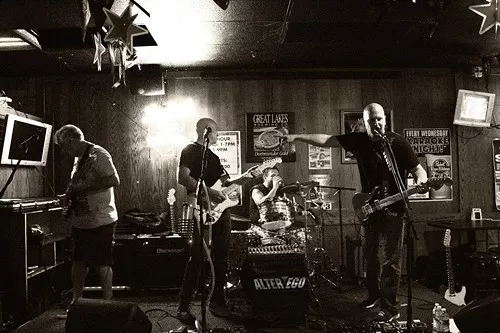 Alter Ego on Facebook
Local classic rock cover band Alter Ego perform at 69 Taps in Medina on August 31, 2013. The bar and its former management are being sued for copyright violation for having the performance and not paying licensing fees
Last August, a suburban Cleveland classic rock cover band called Alter Ego got together at 69 Taps in Medina on a Friday night and belted out the standard classic rock tunes: "Jesse's Girl," "Fortunate Son," "You Really Got me," "Brown Eyed Girl" and, of course, "Free Bird" among other songs of that ilk that every cover band plays.
But this week, the bar, company that used to operate it, and the two guys who controlled that company now face a copyright lawsuit in federal court from Broadcast Music, Inc — the massive and powerful music licensing organization — and the companies that hold the copyrights to 10 classic rock songs performed that night, who are alleging "ten claims of willful copyright infringement."
Venues where music is played — bars, restaurants, clubs, theaters, whatever — must pay a licensing fee to the licensing company or they risk facing federal lawsuits from those massive national organizations. BMI owns the public performance rights to 8.5 million songs and they want to make sure they get their cut from any place that plays any of them, recorded or live, even if it's just hosting a performance of by small-time cover band made up of regular guys with day jobs getting together for the fun of it (the band is not liable: it's the sole responsibility of the venue to get the license).
The stakeholders
The suit is spearheaded by Broadcast Music, Inc. BMI controls the public performance licensing rights to 8.5 million songs. For any of those songs to be legally played publicly, venues pay BMI a fee for access to their catalogue, and BMI then distributes most of that to the copyright holders. In fiscal year 2013, for example, BMI collected more than $944 million in licensing fees and distributed $814 million to its member songwriters, composers, and music publishers.
Also joining BMI in the suit against the bar are the music companies that own the actual musical composition copyrights for the songs that were performed, such as Universal, Concord Music Group, EMI Virgin, Fourteenth Hour Music, Springtime Music, Dandelion Music, Jay-Boy, and Cyanide Publishing.
Those 10 corporations are bringing the copyright infringement lawsuit against the following three following parties:
-1: T-Man, LLC, the company set up by two guys (below) that controlled 69 Taps locations in Medina, Akron and Wadsworth.
-2: Jon Middendorf, who was a "managing member and President of T-Man, LLC" with "responsibility for the operation and management" of the bar, who had the "right and ability to supervise the activities."
-3: Thomas Manfreda, who was "a member and Secretary" of the company and bar.
As of last November, Middendorf and Manfreda no longer have a stake in 69 Taps, according to a bartender at the Medina location.
The show in question
"Cleveland based classic rock cover band" Alter EGO is made up of four suburban guys with corporate jobs who perform every so often at sports bars in Northeast Ohio. The Medina 69 Taps bar hosted them on a Friday night last August. The band is not named in the suit because they are not responsible or liable for anything in it, but a Facebook event listing for the performance and subsequent pictures posted on social media detail it was them.
Here are the 10 songs 69 Taps and its former owners Jon Middendorf and Thomas Manfreda are accused of violating the copyrights of, when they "caused (the songs) to be publicly performed at the Establishment" on August 31, 2013:
-1: "Bad Moon Rising" written by John Fogerty
-2: "Brown Eyed Girl" written by Van Morrison
-3: "Every Rose Has Its Thorn" written by the members of Poison
-4: "Fortunate Son" written by John Fogerty
-5: "Free Bird" written by Allen Collins and Ronnie Van Zant of Lynyrd Skynyrd
-6: "Jessie's Girl" written by by Rick Springfield
-7: "Mustang Sally" written by Bonny Rice
-8: "Some Kind of Wonderful" written by John Ellison
-9: "Talk Dirty To Me" written by the members of Poison
-10: "You Really Got Me" written by Ray Davies of The Kinks
The Alter Ego performance of these songs — which are seemingly played by every rock cover band with at least one suburban white guy between the ages of 35 and 65 — is federal lawsuit-worthy, per the BMI complaint, because it caused them "great and incalculable damage":
The specific acts of copyright infringement alleged in the Complaint, as well as the Defendants' entire course of conduct, have caused and are causing Plaintiffs great and incalculable damage. By continuing to provide unauthorized public performances of works in the BMI Repertoire at the Establishment, Defendants threaten to continue committing copyright infringement. Unless this Court restrains Defendants from committing further acts of copyright infringement, Plaintiffs will suffer irreparable injury for which they have no adequate remedy at law.
They are asking the court to prevent 69 Taps from playing any of the music, to pay money for damages, and for attorney's fees:
A. Defendants, their agents, servants, employees, and all persons acting under their permission and authority, be enjoined and restrained from infringing, in any manner, the copyrighted musical compositions licensed by BMI...
B. Defendants be ordered to to pay statutory damages...
C. Defendants be ordered to pay costs, including a reasonable attorney's fee...
D. Plaintiffs have such other and further relief as is just and equitable.
Questions and answers
I reached out to Cleveland attorney Robert E. Chudakoff, who's representing the 10 corporate plaintiffs, for some more specifics about the case. He didn't return my phone call and forwarded my email to a BMI spokeswoman at their national office in New York. She responded to a few of my questions via email.
About what made the August 31 set by Alter EGO an "unauthorized performance" (more than the hundreds of cover bands playing this exact moment), she responded:
Copyright encompasses several different rights, one of which is referred to as the "performing right", by which songwriters, composers and music publishers hold the exclusive right to play their music publicly and the authority to allow or not allow others to do the same. Any performance of music "outside a normal circle of family and friends" is considered a public performance that requires permission from the copyright holder. Therefore, if the proper music license is not in place at any particular establishment and copyrighted songs are being played, that is an infringement.
On the legal issues at play in the case against 69 Taps, she said:
The legal responsibilities to license music are outlined in Title 17 of the U.S. Copyright Act. As stated above, in order to publicly perform a copyrighted musical work, the establishment at which music is offered to the public must have authorization from the copyright holder. The protection afforded by copyright enables songwriters to earn a living from their music so that they can continue to create new music.

Before bringing suit, BMI makes extensive efforts to attempt to license a business. It is often the case that we will reach out dozens of times over extended and lengthy periods to offer our establishments ample time to respond and to enter into a BMI license. We even try to visit some of the establishments in person, at which point we may confirm that certain songs are being played without proper permission. Even after we have identified that musical works are being performed and infringed upon, BMI attempts once again to offer to resolve the matter by offering a license. Filing an infringement action is our last resort.
About what bar owners need to do in order to host cover bands while being copyright compliant, she said:
Any business owner that plays (or wants to play) music publicly, will need the proper music license in order to be compliant with the copyright law. A single BMI license is cost-efficient and provides legal permission to publicly perform more than 8.5 million musical works by more than 600,000 songwriters, composers and music publishers.
Further reading
Check out the "frequently asked questions" page on the BMI site just to see more about how the system works
For some perspective on what bar and club owners have to deal with to play music in their businesses, check out "License to Kill the Music: ASCAP & BMI Bullying Local Music Venues" by the Phoenix New Times.