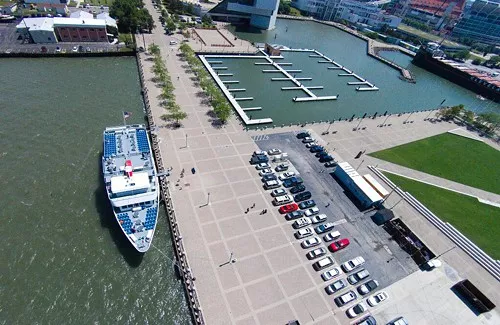 The Rock & Dock, a transient marina which will serve day boaters and waterborne recreation enthusiasts as part of Cleveland's hotly anticipated (
though frustrating
)
Lakefront Development Plan,
is now open for business.
Mayor Frank Jackson cut the ribbon Wednesday with a team of councilmen and, presumably, maritime and development personalities. Grey and beige suits were predominant. (Side note: Councilman Joe Cimperman loves, and I mean loves, ribbon-cutting ceremonies).
The whole purpose of the Rock & Dock seems to be to cater to folks who don't boat enough to dock at a year round facility, or who aren't quite exclusive enough to belong to a yacht club (am I right?) At the Rock & Dock, which is located just off the E. 9th Street pier, boaters will be able to dock for up to ten days at a rate commensurate with the length of the craft. (That rate, fyi, is jacked up for Holidays and Browns games).
For the the recreation types, jet skis will be available for $100/hour and paddle boats for $25/hour. Now, if you've really got a jonesin' for some paddle-boating, but $25/hour seems like a ludicrous overcharge (which it does to me), feel free to explore the waters of the Lorain Metroparks. Their paddle boats can seat four, and are free of charge.
The marina, regrettably, was designed by the Madison, Wisconsin-based Smith Group JJR, whose bungles in Ohio I have documented extensively here.