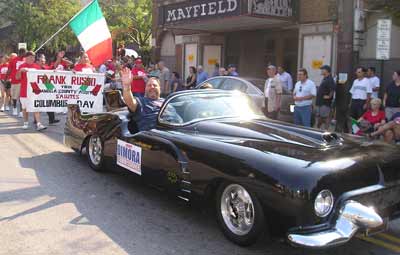 Update: The judge has ordered Dimora and co-defendant Michael Gabor detained in jail until sentencing. No date yet on that front.
Next week, however, the jury we reconvene in Akron to decide what Dimora will have to forfeit in restitution. We're pretty sure the damage will be more than an ice maker.
***
The jury found Jimmy Dimora guilty on a range of bribery, extortion, mail fraud, and racketeering charges this afternoon in his federal corruption trial. He was facing 34 counts in all; he was found not guilty of only one, a mail fraud charge.
The jury had deliberated for a week before coming back with a verdict late this morning.
King Cuyahoga, who once said "I'm no angel, but I'm not a crook" before the indictments were even handed down, was staring down a grand total of 60 years in jail. His bravado in the early stages had faded away, like his beard that had been trimmed away, as the trial progressed.
We'll update on the exact counts — it's 13 for 13 on guilty right now — after the jury is finished, and we'll let you know about the sentencing portion of this is scheduled for when it's announced.
If you want to take a wistful look back at the Jimmy Dimora tale, all our articles are archived here. It's full of all the strippers, backyard pools, gross photoshops, Vegas trips, and Jimmy "DiGiorno" Dimora quips you could possibly ask for.