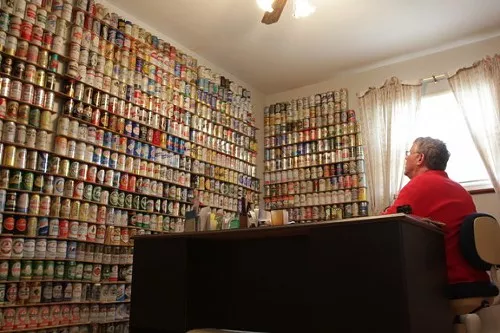 Lance's Brewery Tour
Lance Rice, at home among his beer can collection.
Just about a year ago,
we spoke with
the filmmaker behind Lance's Brewery Tour, a cross-country journey of foamy proportions. The inspiration and subject of the film, Lance Rice, has since become something of an icon in both autism awareness and craft brewery circles.
Tomorrow, April 8, is #BeerAutismHope Day. That hashtag matters here, because this is a social media-centric event. Facebook page "Lance's Brewery Tour" and Twitter account @LanceKnowsBeer will be very active throughout the day, engaging the movement with a message of hope and progress.
From the film team:
On April 8 America's greatest breweries, autism organizations and families nationwide will take to Facebook, Twitter and beyond to start a movement by sharing Lance's message of hope and the hashtag #BeerAutismHope.

Lance has toured over 70 beer breweries while a documentary crew followed for 2014's most inspirational film: Lance's Brewery Tour. Twelve months ago Lance was an unknown beer historian with autism who was once afraid to speak or leave his own home. This year Lance has traveled 25,000 miles, spoken at autism schools and centers for the disabled, met families with special needs children, given interviews to America's largest media outlets and was named one of Cleveland Magazine's "Most Interesting People of 2014." Lance's miracle has already begun changing the world.