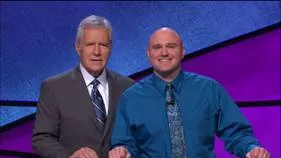 JEOPARDY PRODUCTIONS INC.
Arthur Chu,
legend
, leaves behind massive shoes for future competitors to fill. The third-winningest
Jeopardy!
competitor
bowed out
last night, opening up the field for similarly eager masters of trivia.
At the risk of turning our illustrious website into some sort of odd Jeopardy! blog, we're happy to announce another Northeast Ohio player beginning his run tonight. North Royalton High School history teacher Matt Kish will appear on the show, which airs at 7:30 p.m. on WOIO.
Our fine greater Cleveland area treated Chu as a local hero; it's time now to double down on support for those bringing the gold back home.
#TeamKish is now.