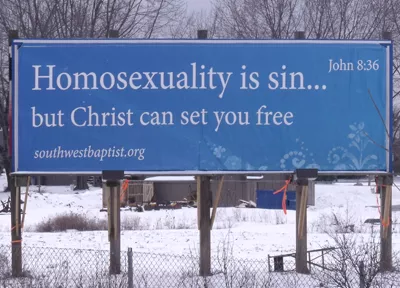 Brunswick's Southwest Baptist Church recently commissioned a new billboard to broadcast this crucial message from God's lips to I-71 commuters' benighted, sodomic ears (slash eyes/butts): "Homosexuality is sin… but Christ can set you free." The church attributes the sentiment to John 8:36, which has nothing to do with Christ liberating sinners from the shackles of wayward boning.
An identical billboard posted last year was vandalized, perplexing the congregation's intrepid leader. "It's not a hateful message at all," Pastor Greg Davis bleated to 19 Action News. "We feel that silence on the issue is probably the most hateful thing you can do."
Scene staffers have pledged to renounce our shroud of hateful silence-doing once and for all; as a gesture of good faith, here's this tribute to Cleveland-area advertorial bigotry past and present.

1. Biggie's Food Mart: Like Tibetan Sand Mandalas, Except Racist
Biggie's Food Mart, at the corner of 55th and Cedar, is a perennial source of amusement for some and vexed martyrdom for others, but if you can get past the whole "brazen antisemitism" thing, Biggie's' murals, though often rhetorically misguided, are a feat of gimcrack art brut, spiritually akin to those intricate sand mandalas that Buddhist monks painstakingly craft and ritually efface to reify corporeal impermanence or whatever. The eastern wall of Biggie's is an ever-evolving evisceration of Zionist perpetrators and perceived racists (including County Prosecutor Tim McGinty), commissioned by Biggie's Palestinian proprietor, Brahim "Abe" Ayad, and rendered by "urban artist" Harry Bell, whose less tendentious material is actually brilliant. Biggie's storefront currently sports a smug-looking Benjamin Netanyahu presiding over sundry atrocities with a caption that reads: "History repeats itself. You let them kill Jesus with every Palestinian man, woman, and child."

2. Cleveland Cold Storage: Holocaust Memorial?
Image: Plain Dealer/Cleveland SGS
The now-demolished Cleveland Cold Storage building was once the site of an innerbelt Holocaust mural, which depicted an S.S. officer training a gun at a Jewish boy. Prompted by Jewish community leaders who felt the painting was alarming and offensive, the building's Albany-based owner, Richard Gerrity, agreed to add "This is not an anti-Semitic sign; It's a pro-Zionist sign" to the mural in 1992, further confusing motorist passersby. Gerrity told the Plain Dealer that his intent was to inspire Jews to move to Israel. Duh. The image was finally painted over in 1994.

3. Clear Channel Voter Fraud Billboards: Romney Campaign Donor Tries to Freak Out Minorities
In the months leading up to last year's election, ten ominous billboards cropped up in low-income, predominately African-American and Latino neighborhoods around Cleveland. Their message, which warned prospective voters that "Voter Fraud Is a Felony" punishable by up to 3 1/2 years in jail and a $10,000 fine, received national scrutiny for its implicit racism: voter fraud is virtually nonexistent (Mother Jones estimates that in-person voter fraud is rarer than UFO sightings), so the privately-funded signs were likely not born of a genuine concern for rampant illegal voting. Rather, civil rights activists and voting advocates argued that the billboards were an ugly attempt at voter intimidation in a swing state where preliminary polling indicated an overwhelming preference among black and hispanic populations for Democratic candidates. Clear Channel finally pulled the billboards but refused to reveal the identity of their anonymous sponsor, which turned out to be Stephen Einhorn, a Milwaukee venture capitalist and Romney campaign donor.

4. Harry "X" Sysack Sign Co.: Lifetime "X" Achievement Award
The title for most prolific production of rabble-rousing signage goes to the late Russell Sysack of the Harry "X" Sysack Sign Co. For decades Russell crowned the intersection of Pearl and State roads in Old Brooklyn with his creepy brand of pseudo-literate antiestablishment sloganeering, often posting lengthy racist manifestos and libertarian desiderata, his earnest jingoistic bluster an unintentional source of ironic bemusement for many locals. Sysack passed away in 2009, but the sign company, now helmed by Sysack's sister Nancy, continues to churn out provocative messages (the intersection is presently a memorial for "unborn American" victims of "genocide," replete with fetus headstone). Nancy has fortunately adopted one of Russell's signature phrases, "PAY BACKS A BITCH!," an expression whose relevance to its thematic context has become nonexistent over time. Abortion? PAY BACKS A BITCH. Obama? PAY BACKS A BITCH. Immigration? PAY BACKS A BITCH. The Sysack clan was unavailable for comment regarding who "Pay" is or what backing a bitch specifically constitutes. Probably something freaky that Ron Paul's into.