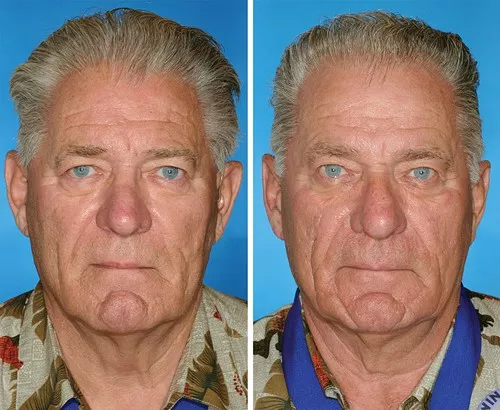 Plastic & Reconstructive Surgery
In this case, both twins are smokers. The twin on the right has smoked 14 years longer than his brother.
A new University Hospitals/Case Western Reserve University
study
of twins shows that the effects of smoking become quite visible in the skin and face, as evidenced by direct comparisons between twins.
From 2007 to 2010, dozens of pairs of twins were identified in which one twin smoked and the other did not. All participants were identified at Twinsburg's annual Twins Day event.
The jargon-riddled results:
Smoking twins compared with their nonsmoking counterparts had worse scores for upper eyelid skin redundancy, lower lid bags, malar bags, nasolabial folds, upper lip wrinkles, lower lip vermillion wrinkles, and jowls. Lower lid hyperpigmentation in the smoking group fell just short of statistical significance. Transverse forehead wrinkles, glabellar wrinkles, crow's feet, and lower lip lines accentuated by puckering did not have a statistically significant differences in scores. Among twins with greater than 5 years' difference in smoking duration, twins who had smoked longer had worse scores for lower lid bags, malar bags, and lower lip vermillion wrinkles.
In simple English, smoking makes you age prematurely and generally look like hell. Author Bahman Guyuron adds: "This study details the specifics of facial aging brought on by smoking, which primarily affects the middle and lower thirds of the face. It also demonstrates that a 5-year difference in smoking history can cause noticeable differences in facial aging in twins."
The study is published in the November issue of Plastic and Reconstructive Surgery, the journal of the American Society of Plastic Surgeons.