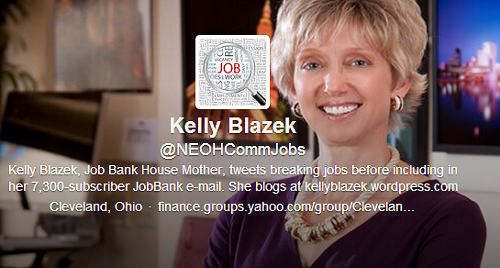 Photo via Kelly Blazek, Twitter, Screen Grab
Update: Kelly Blazek has penned a carefully crafted apology after her emails went viral (and after #blazek became the number one trending hashtag in Cleveland yesterday)- but is her apology, which only names one of her cyber bullying victims, enough? Drop your thoughts in the comment section below.
***
(Originally posted 2/25/2014) If you're not one of Kelly Blazek's 960+ LinkedIn connections or have not been granted approval to subscribe to her bi-monthly, hand-selected Cleveland Job Bank House emails, perhaps you, dear job seeker, know her from a scathing email she sent you after you reached out in hopes of connecting with the self-described job listings "mother" of northeast Ohio.
Turns out, you may not be the only one who's been subjected to Blazek's— uh— professional advice.
Last week, an email response Blazek, a 2013 IABC Communicator of the Year, sent to a job seeker made its way to BuzzFeed Community Forum, another to Imgur, and today, Scene received a third fiery email interaction between Blazek and a native Cleveland jobseeker:
Hello Kelly,

My name is _______, I currently live in Chicago and am planning on moving back home to Cleveland in the next few months. I was born and raised in Cleveland and am excited to come back, finally. [A] friend of mine referred me to your Yahoo Group and I requested admission, but was denied.

When I told [my friend] about this, he told me that contacting you was the best way to gain access to the group. I am currently active in the employment market and have been in Technology Sales for the past 4 years.

What is the best way to gain acceptance into this group, so I can help find a job?

All the best,

_______
Blazek's response:
[H]ow about starting with NOT presuming I would share my nearly 1,000 personally-known LinkedIn contacts with a TOTAL stranger? How bush league to pull that stunt. It's what kids do - ask senior executives to link in to them, so they can mine contacts for job leads. That's tacky, not to mention entitled - what in the world do I derive from accepting a stranger's connection request? You earned a "I Don't Know ______" from me today, for such an assumptive move. Please learn that a LinkedIn connection is the equivalent of a personal recommendation. If I haven't heard of someone, met them, or worked with them, why would I ever vouch for them on LinkedIn?

My Job Bank is a gift of my personal time and effort to benefit my profession. It's a privilege to help thousands of jobseekers - but I have my limits. You have not earned the right to ask me to connect on LinkedIn, and your Yahoo Group request was denied because you didn't provide any information when you requested membership - or failed to respond to a request for more information that indicates your background is a match for the jobs I share.

No more questions or requests. Please tap into the other job seeker resources in NE Ohio for your search.

Kelly Blazek | Principal

Gemba Communications, LLC

2013 IABC Communicator of the Year
Since the hubbub began, the Cleveland communicator has shut down her Twitter account, but that's hardly stopped the social media community from lashing out:
It looks like Kelly Blazek shut down @NEOHCommJobs after her nasty emails went public. What a terrible representation of Cleveland pros.
— Josh Flagner (@RailbirdJ) February 25, 2014
This is how Kelly Blazek, the biggest Northeast Ohio marketing/creative job posting leader, treats young jobseekers: http://t.co/jaKBMw0knb
— Joseph Hughes (@nczeitgeist) February 25, 2014