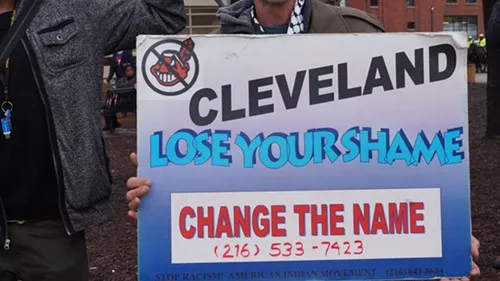 In
a story this week in Quartz
, the sleek online business arm of the Atlantic Media Company, reporter Jeff Yang explains a recent study which shows that
Chief Wahoo is likely hurting
the Cleveland Indians' bottom line.
Two marketing professors from Emory Univesity's business school found that in the short term, teams that eliminated a Native American mascot experienced a small revenue hit. But over the long term, writes Yang:
"The decision ended up boosting revenue. [Researchers] surmised that this was due to a number of factors, including the elimination of negative publicity, expansion of the potential fan base, and subsequent implementation of new mascots with greater merchandising power."
One of the prevailing theories about Larry Dolan's unwillingness to change the Indians' logo and name is the expected loss of merchandise sales. But it turns out that sales don't necessarily decline. They certainly didn't when the NBA's Washington Bullets changed their name to the Wizards in 1997, in response to criticisms (and owner Abe Pollin's personal belief) that the name was an unkind reminder of D.C. high homicide rates and history of violent crime.
"They sold a ton of merchandise after the change," Dr. Manish Tripathi told Yang, "while invigorating corporate interest, opening the way to more box seat sales and bigger sponsorships."
Though the Emory study originated on college campuses, the researchers eventually turned their attention to the Cleveland Indians, along with the Atlanta Braves and the NFL's Washington Redskins and Kansas City Chiefs. The Indians' results were significant:
"Forbes magazine's yearly ranking of the most valuable sports brands shows that since Larry Dolan purchased the Indians in 2000 for $323 million, the team's annualized value growth has been tied with the miserable Houston Astros as the worst in the Majors—indeed, at 4%, it has increased by a rate not much faster than inflation. This despite the Indians' reasonably successful franchise record over that period, which includes winning the AL Central division in 2001 and 2007, and coming in 2nd last year, and its gorgeous ballpark, named MLB's best by a 2008 Sports Illustrated poll.
Curse of Chief Wahoo, anyone?
The research goes on to say that the cost of changing a logo might be anywhere from $3-15 million, but that's a "drop in the bucket" compared to the team's $200 million annual revenue.
The Emory researchers concluded that there's a "general consensus" in America that these racially charged mascots are on the way out — Scene's been in this camp for years — and team owners like Larry Dolan need to decide how they're going to go down.