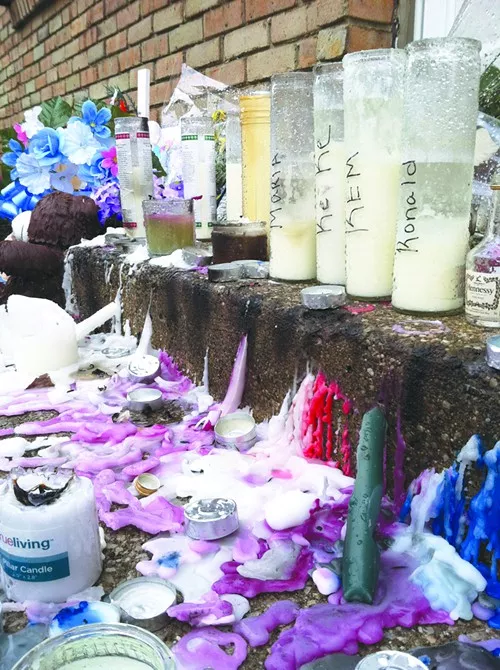 Sam Allard / Scene
Remains of the Vigil at Akron Kimlyn Circle Hosing Development (April, 2013)
"Escalating events during a robbery" were likely what led to a quadruple homicide in Akron's Kimlyn Circle housing development in April, 2013, police officers told jurors in the capital murder trial of Derrick Brantley, the accused shooter.
Brantley and co-defendent DeShannon Haywood are accused of executing Michael Roberts, 24, his longtime friend Kem Delaney, Roberts' girlfriend Kiana Welch and her friend Maria Nash, both 19, all of whom were shot at least once in the head. Scene visited the housing development for a vigil last year — the full story of the murders can be read here.
Tuesday's testimony revealed that heroin was one of the principal factors in the aggravated robbery. Heroin was described as flowing freely among Akron's neighborhoods.
The Akron Beacon-Journal's Ed Meyer reported that Isaac Love, 28, a close friend of Roberts, testified that on the day before the shootings, he was at the townhouse with Roberts, Delaney and others when a package arrived. It contained 100 grams of heroin.
Love also admitted that he and Roberts sold heroin as a means of making money and that the package would net somewhere between $10,000 and $20,000.
Roberts admitted as much in his Facebook posts prior to his death, with more bravado and fewer specifics.
"Drug money will buy U what u want!$!" read the caption on a photo of Roberts with a thick wad of bills held to his ear. It was posted three days before his murder.