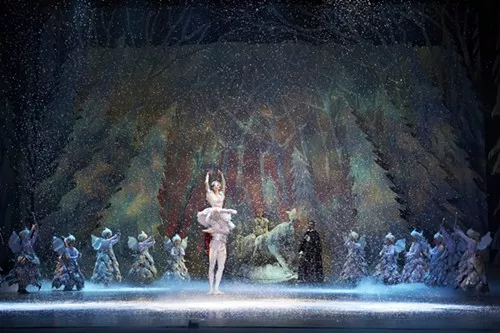 Photo by Roger Mastroianni
Nothing brings out the crowds like
The Nutcracker
. The State Theater on Playhouse Square was mobbed last night for the first of five performances pairing the Cleveland Orchestra with the Joffrey Ballet, which brought a ton of impressive sets and lavish costumes from Chicago.
The production got off to a strong start with an elaborate Victorian parlor set that drew applause from the audience even before the dancing began. As the guests, who had trooped across the front of the stage during the overture, gradually filled the room, it took on the air of a holiday three-ring circus, with a bustle of smaller activities — children playing and opening presents, adults dancing or in earnest conversation — framing the main action.
The dancing was fluid and joyful, but most striking was the choreography, which maneuvered up to 40 people at a time through routines executed with grace and precision. Considering that the many children onstage were local performers who just joined the company for its Cleveland performances, it was a masterful demonstration of timing and execution, pulled off with seemingly effortless grace.