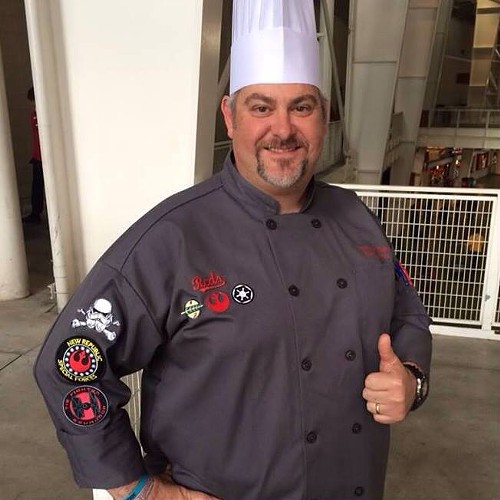 Cleveland native James D. Major took top honors in a ballpark-themed "Chopped" competition titled "Big Hitters" that aired last night on the Food Network.
Major, currently executive chef at Great American Ball Park in Cincinnati, was one of four executive chefs from American and National League ballparks. He competed against chefs from the St. Louis Cardinals, Baltimore Orioles and Texas Rangers.
Major, a graduate of St. Joseph, has worked at the Harp, Johnny's and was owner of Major's Club Isabella before taking a job with Delaware North, the food service provider for the Cleveland Indians. While here, he served as Club Chef and Executive Chef before being promoted to Corporate Chef for Delaware North. To travel less and spend more time with his family, he took the Executive Chef post in Cincy.
"We taped the episode last year," the chef explained from Cincinnati. "We had to cook an appetizer, entrée and dessert using food in a basket. There was always a few normal ingredients and a few curveballs, no pun intended."
His winning dishes included spicy Italian sausage with sunflower seed pesto, pan-seared flank steak with pretzel popover, blue cheese horseradish sauce and port wine reduction, and popcorn ice cream, blueberry churros and hotdog bun tiramisu.
His take for his efforts: $10,000.
"It was a lot of fun," he says of the experience.