Cleveland.com reports that the house which exploded earlier this morning was a vacant two-story bungalow.
The home had been unoccupied for approximately six months.
Neighbor Krystal Bruce told Cleveland.com that she heard a noise that sounded "like a bomb went off."
"I was outside talking to some of my house guests, and then all of a sudden there was just this huge explosion," she said. "There was glass, ashes, dust, debris, just everywhere."
Twitter has also been blowing up- no pun intended- with responses and photos from the scene.
Corey Shaffer for Cleveland.com posted:
Neighborhood where Euclid home exploded seems like a nice, normal place. Other than, you know, exploding houses. pic.twitter.com/TSC8Hrpafw
— Cory Shaffer (@cory_shaffer) August 16, 2013
and WKYC's Sara Shookman posted:
This is house "before and after" explosion in Euclid. @wkyc pic.twitter.com/tU5QOOj6L9
— Sara Shookman (@SaraShookman) August 16, 2013
****
Reports are flooding in that a house has exploded in Euclid near East 215 and Miller Avenue.
The explosion occurred at around noon on Friday.
No injuries have been reported.
19 Actions News reports that there were no signs of gas leakage at the time of the explosion.
More to come as the story develops.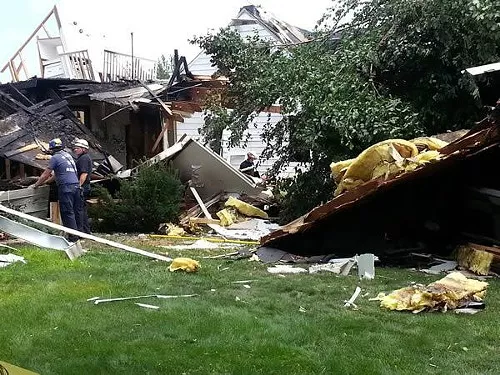 Photo Courtesy of 19 Action News