ERIC SANDY/SCENE
Angel Lozada leads the crowd in a prayer vigil May 8 on Seymour Avenue.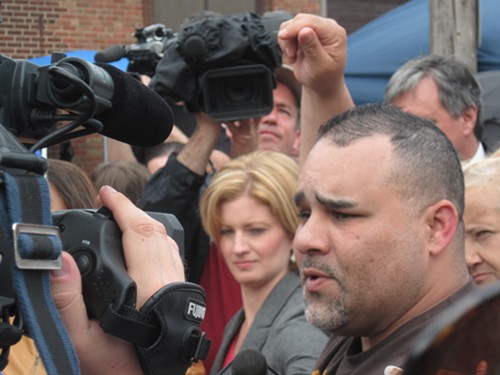 ERIC SANDY/SCENE
Lozada speaks to the crowd on Seymour Avenue.
The police cordon on Seymour Avenue has widened, leaving the middle of the block desolate and closed-off to neighbors, activists, onlookers and media. Many are spending the days congregating on the western portion of the street, near West 25th, just outside the property line of
Ariel Castro's home
.
As the United Pastors in Mission gathered near the mostly empty corner of Seymour Avenue and Scranton Road Wednesday afternoon, a group of area residents assembled their own vigil on the other end of the street on behalf of Amanda Berry, Gina DeJesus, Michelle Knight and other missing persons.
Cleveland resident Angel Lozada told the crowd there's no need to wait for their community's pastors to come to them. He started a group prayer right there on the spot.
"Look where our leaders are at, look where our ministers are at - on the other side!" he exclaimed, pointing down the street toward the United Pastors in Mission gathering. He offered his thoughts on the city's people and the need for ongoing commitment to safety and love.
A local pastor, not associated with the United Pastors in Mission vigil, offered her words and distilled thoughts through Isaiah 61:1, "The Spirit of the Sovereign Lord is on me, because the Lord has anointed me to proclaim good news to the poor. He has sent me to bind up the brokenhearted, to proclaim freedom for the captives and release from darkness for the prisoners."
Lozada offered his words on the power of will throughout Cleveland.
"For me personally, I raise my banner, I take my flag, and I say: What responsibilities do I have?" Lozada urged the crowd to remain vigilant and stand up to evil. "What am I going to do to try to improve this community?"
His comments tipped the proverbial hat to the good deeds of Charles Ramsey and Angel Cordero, the neighbors who initially helped rescue Amanda Berry and, shortly thereafter, Gina DeJesus and Michelle Knight.
The quick gathering highlighted the tight-knit community that comprises Seymour Avenue and other neighborhoods south of downtown, particularly in the wake of this week's mix of tragic and celebratory news.
Around the same time that was happening, Gina DeJesus arrived home safely, WEWS reports.